I'm glad to see this week end. I may have said that last week, but it's true. It was a good week, just long and tiring. It probably didn't help that I started today with chasing dogs off my property in my pj's (baseball bat in hand in case they were vicious... my neighbors must loooooove me. Hey, the kids have to be outside, so leash your dogs, yo.), had to tell kiddo to not wait for his bus in a tree, and then get to his school with Dr. Destructo in tow and have a Valentine's breakfast... which was really nice, but consisted of kiddo talking at warp speed, Dr. Destructo coloring madly, and very little Valentine's breakfast eating. Good times... for real.
That being done, I've still yet to pop in my exercise video and there are 2 boys coming over for dinner and a movie later on tonight for kiddo. I'm going to crochet my buns off in the meantime. Here's my work space today... If you look closely, you can see the pattern planning on the page underneath all of the yarn.
tentacle wip
Tentacle Ballet Monster
is coming along, in the fact that I have all the suction cups made, one tentacle lining (7 more to go!) and then have to figure out the wire and bendy aspect of this doll. You can't have a tentacle monster with floppy tentacles. They need to be upright and awesome.
today's work space
There will be a little penguin pattern work going on and 2 cat butt keychains also. One will be blue. I will eat and clean in the intermittent shifts of crochet.
Somebody
(couch*me*cough) didn't do the dishes last night.
do the dishes!
It's Fiber Arts Friday, so please leave a comment and then head over to Andrea's Blog,
Wisdom Begins in Wonder
and check out the other Fibery posts! I guarantee you will learn something interesting.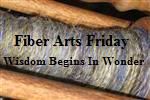 That all being said, at the end of the night... it's all going away and I'm casting on the 2nd
Basic Ribbed sock
.
Subscribe to the Newsletter!