Firstly, let me get this penguin out of the way. I finally finished. Life got in the way of this doll/pattern and then I lost the mojo that was driving it to be finished. Either way, he's all finished and now I get to write up the pattern so you all can make your own little penguin dudes.
He's not all that big, but I like how cute he is and will be happy when the entire project is completely finished.
Now onto the birthday festivities.... Hubs had a birthday this week... actually the day after Valentine's. I used to take this as a supreme challenge and whine and be like "just great..." Now I enjoy the love of it all (yaaaaaaaaaaaaaaak!) and we roll with it. This year, we (ahem... I) did crazy searching for take-out BBQ because the one I had originally planned on going to was closed on Tuesdays. Of course it was.. But I found a nice place that was about 30 minutes from the house... We'll be going back... hopefully without the kidlets and on the motorcycle.
birthday cupcakes
I made Hubs birthday cupcakes... from scratch... with love.
birthday bunny ears
Kiddo made birthday bunny ears, giggling maniacally... with love.
cupcakes are yummy (that's what he'd say if he could talk...)
Dr. Destructo loves his cupcakes... also with love.
So that's that.
It's Fiber Arts Friday, so please leave a comment and then head over to Andrea's Blog,
Wisdom Begins in Wonder
and check out the other Fibery posts! I guarantee you will learn something interesting. Sadly, I won't be participating in the blog hopping this week due to some unexpected sad stuff. Hopefully next week!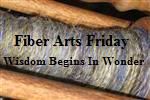 Subscribe to the Newsletter!