I've learned quite a bit this year. I'm not going to get into everything, but I'll share the lesson from the few craft shows I have done this year.
Kids love my monsters.
They are drawn to them like bees to honey. Their parent's are not so thrilled with the price tags once they see the dolls and the fact that they aren't really kid friendly. (DISCLOSURE: I DO NOT SELL PLASTIC BAG STUFFED DOLLS TO KIDS. THE MOM IN ME KNOWS IT'S WRONG) I've lost many a sale because of all of this. I've been trying to come up with a kid friendly, price friendly, and eco-friendly solution to my dilemma.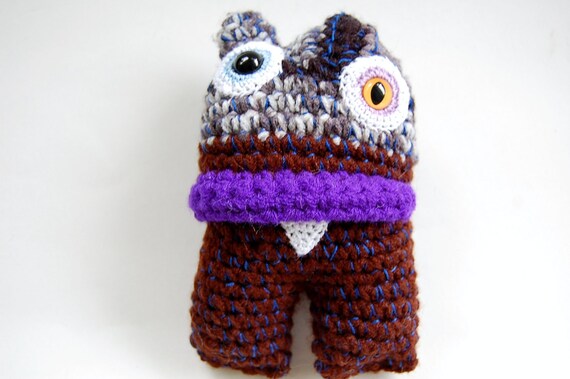 Merfious Mini Monster OOAK Kid Friendly Plush Toy
I think I might have it. This is the only guy I have so far, but I'm hoping to crank out a few more over the weekend. Mini monsters! They are not 100% eco-friendly, but maybe 50% at this point. 100% will come in time. For now, they are made from a variety of fibers in my stash (not purchasing new yarns until I use what I have... check). I'm stuffing them with wool fiberfill instead of gross polyester fiberfill (renewable resource... check). They are smaller, thus can be sold at a lower price point without breaking my bank. Awesome. I've also made sure the safety eyes are secured into the monster's body, instead of just being sewn on like in the art doll monsters.
Agamemnon... the closest thing I have to sheep or wool living at the house.
The other great news (for me anyway...) is I'M GOING TO RHINEBECK for the
Dutchess County Sheep and Wool Festival!
I'm narrowed down my
Ravelry favorites
to 6 so I can see what yarn I will need... stocking up for the winter. Seeing that I'm almost done with that darn never ending sock that doesn't fit me, I'll finally have time for new knitting!
Subscribe to the Newsletter!
(Newsletter includes news and promotions...)