This week's productivity has been hampered a bit by snow days, the
One World One Heart
blog event, and small children feeling under the weather... and snowboarding. We can't forget
tha
t priority. At least I wasn't as sore this time around the day after. This time I could move everything but my butt and one knee. That's progress. Last time I couldn't even move my arms, legs, or even fingers from trying to claw myself onto the mountain as I fell. Snowboarding is awesome.
tentacle ballet monster wip
I did manage to write up my
aviator hat pattern
, a
new monster doll
and some tentacles for the
current art doll
I'm working on. I love crocheting tentacles, by the way. It's the sewing on of the suction cups and undersides that take the fun down a few notches. Hopefully these will have pipe cleaners or something that I can put in them to keep them bendy.
I'm digging out my
sock
(YES I KNOW!!! STILL NOT DONE!!!) and am going to finish it this weekend. Then I will cast on its partner... and probably take 6 months to finish it also. Next winter I will have a killer pair of socks at this point. Hahahahahaha!
random chicken picture... she-ra
It's Fiber Arts Friday, so please leave a comment and then head over to Andrea's Blog,
Wisdom Begins in Wonder
and check out the other Fibery posts! I guarantee you will learn something interesting.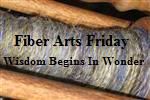 Subscribe to the Newsletter!