It's been a pretty productive week here.
I've been trying to stick to a realistic schedule for creating... also realizing that life comes up and sometimes I don't finish everything. I think I've found something that does work for me though... so yeah!
I finished writing out the penguin pattern yesterday... which I was excited about, because it meant I could start on my Chakra Doll. I'll get into that in a moment. Here's the penguin pattern. I'm offering it for sale in 4 different places. Here (see below),
Shoply
,
Ravelry
, and
Etsy
...

As I mentioned earlier, I also started my Chakra Doll. I recently took Reiki 1 and was struck with this project. Apparently I need a Chakra doll for myself. This will lead to a crochet pattern for those of you who also need one... custom listings too (if the interest is there). But really this one's for me. I'm very excited. I currently have a sketch up on my Ravelry projects, but will be updating it as I go.

If you missed my last post, I finished the Mother Bird Doll. Check her out if you haven't already. She really did come out amazing.
That's about it. I'm gonna run because Dr. Destructo is turning 2 next week and we're having a birthday brunch for him tomorrow.
It's Fiber Arts Friday, so please leave a comment and then head over to Andrea's Blog,
Wisdom Begins in Wonder
and check out the other Fibery posts! I guarantee you will learn something interesting.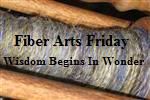 Subscribe to the Newsletter!